Details here
Biennale Cinema 2020: the 77th edition is confirmed, with some special features...
See you from 2nd to 12th September 2020 at Lido, Venice: a special edition perfectly safe.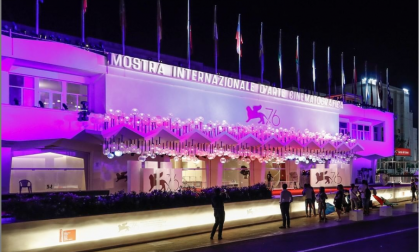 Cultura Venezia, 13 Luglio 2020 ore 11:22
A lot of details for this edition of the Biennale Cinema, as announced by the organization, talking about the new safety measures for the Coronavirus.
Section and movies
Sections Venezia 77 and Orizzonti are confirmed, ad Biennale College Cinema and Fuori Concorso. All the spectators can go to the reserved spaces of the Lido. The contest Venezia Virtual Reality will be digital, in collaboration with VRChat e HTC Vive Pro.
It's also really interesting the idea to create two arena, one at Giardini and one at Lido. Some movies will be also show at the cinema Rossini (in Venice) and Candiani (in Mestre).
The artistic director, Alberto Barbera, said:
"I am extremely pleased that the Biennale Cinema can be held with a minimal reduction of titles and sections. Without forgetting the many victims of these last months, the first international festival after the forced interruption imposed by the pandemic takes on the meaning of a hoped for celebration of the restart, and a message of concrete optimism for the entire world of cinema hard hit by the crisis"
And he also said:
"The Venice 77 Official Selection, with its 50-55 films from all over the world, offers the usual overview of the best the film industry has produced in recent months, thanks to the extraordinary response that directors and producers have been able to give despite the difficult working conditions of the past few months. A large presence of authors and actors will accompany the films on the Lido, while internet connections will allow press conferences to be held for all those who cannot participate in person, following the travel restrictions that are still active ".
Special guest: Anna Foglietta
The Roman actress Anna Foglietta will lead the opening and closing evenings of the Venice Film Festival. Known for her role in the TV series La Squadra, Anna Foglietta was born on April 3, 1979 in Rome to parents of Neapolitan origins. At 29, the actress joined the cast of Distretto di Polizia, in the role of Inspector Argenti. In 2006 she acted on Sfiorarsi and, from this moment, her career has literally taken off, with participations in productions such as Solo un padre, Colpi di Fulmine and Noi e Giulia. The awards received are also different: there are 4 nominations for the David di Donatello, 5 for the Nastro d'Argento and one for the Globo d'Oro.
Great expectations therefore for the opening night of the festival, which will be held on September 2nd, 2020 in the Sala Grande of the Palazzo del Cinema on the Lido, and for the closure, scheduled for September 12th, 2020 with the assignment of the Lions.